South Africa is known as the Rainbow Nation, rightly because of its vast cultural and ethnic diversity. A visit to a Zulu village is a must for a unique cultural experience.
Zululand
While you are in Zululand, enjoy the welcoming wide smiles extended to you by the local people. Enjoy the comfortable accommodation in major towns, game lodges, to seashore cottages, Zulu homes or floating lake chalets. The Zulu experience is something which is a must for any traveler: take an ox wagon to Zulu villages of bee-hive huts and experience traditional Zulu hospitality. You cannot leave without a visit to Ulundi, the site of the final battle fought in the Anglo-Zulu war. Nearby Zulu kings lie buried in the Emakhosini Valley. In total contrast are the township tours showcasing modern Zulu life including taverns, shebeens and traditional medicine shops.
Further inland lie tea plantations, cattle ranches and pretty, historical towns such as Vryheid and Paulpietersburg where you can relax in the therapeutic sulphur springs. Zululand, the heart and pulse of the Zulu Kingdom.
Plan My South Africa Vacation Now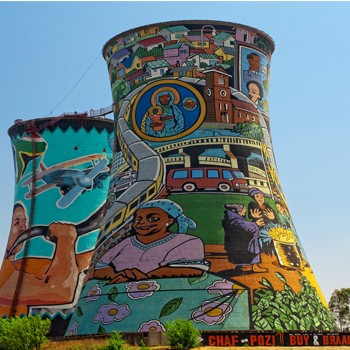 Soweto
South of Johannesburg is Soweto, a city developed as a township for black people under the apartheid system. Most of the struggle against apartheid was fought in and from Soweto. The name Soweto is an acronym, made up – in apartheid days – from the first letters of the words "south western township". Soweto is inhabited by over two million people, with homes ranging from extravagant mansions to makeshift shacks.
It is a popular tourist destination with sites such as Kliptown (where the Freedom Charter was drawn up), the home of former President Nelson Mandela, the Hector Petersen Memorial site, restaurants and shopping malls.
Plan My South Africa Vacation Now