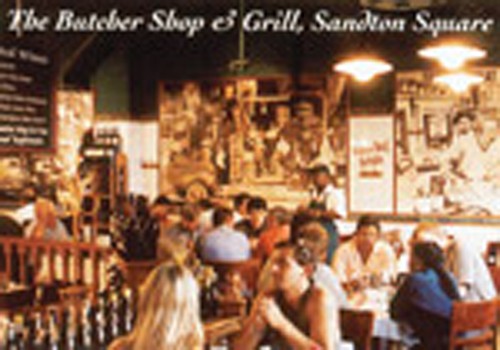 South Africa Diary 1
South Africa lies in the southern hemisphere of the African continent, with Pretoria as its capital. Cape Town is one of the most gorgeous cities in the world with the other extreme being Johannesburg which  probablyhas the highest crime rate in the world.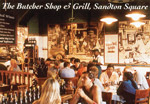 Most of my readers know me as a teacher or a journalist but this was yet another dimension which made it possible for me to go on this exciting 12 days trip to South Africa. I was a qualified FUNDI or Expert as I had successfully completed the SA tourism programme. To know more about FUNDIS , readers can visit the website www.southafrica.net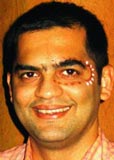 Immigration and Customs clearance were a breeze  at Johannesburg airport. The drive to the Crowne Plaza hotel at Sandton where I would spend the next 3 days was pleasant. Sandton is one of the more upmarket districts of Johannesburg. The Crowne Plaza is a well laid out property and and five minutes by foot takes you to Village Walk. Here you find several boutiques, shops ,cyber cafes and speciality restaurants and you can savour some of the finest Italian cuisine here. The Village Walk is an ideal place to spend an entire evening.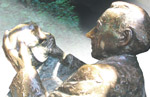 Meanwhile the other FUNDIS had all checked into the Crowne Plaza. We planned to have an adventurous meal at South Africa's Red Meat and Red Wine Capital—The Butcher Shop and Grill situated on Sandton Square .It is a sure " nono " for vegetarians or even kids below 14.The other option was to go to a Greek restaurant.Being in an adventurous mood ,we all landed up at 'The Butcher Shop '. Here they serve some of the finest wines along with a wide variety of meat and fish , which include Game ,Crocodile, Mozambique  Prawns, Oyster and everything for a Carnivore .It is amazing to note that though Africans eat large quantities of food ,  barring a few exceptions ,are not as huge as you would expect them to be. It was an invigorating experience and I would recommend all meat lovers to visit The ButcherShop and Grill.Even the inflight magazine had an interesting advertisement which read as " 3 ICONS OF SOUTH AFRICA"…Table Mountain,Kruger National Park and Butcher Shop and Grill at Sandton Square.Meat lovers can log onto www.the butchershop.co.za for more information on the same.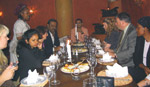 Joburg or Jozi or Egoli or the City of Gold are various names given to the city of Johannesburg, the commercial capital of South Africa located in the Gauteng province. Jo'burg is undoubtedly the economic and industrial powerhouse of sub-Saharian Africa. The city has many exciting places to explore such as Soweto – a city within a city,the Apartheid museum, the Newton Cultural Precinct – home to theatre, jazz, clubs and restaurants and the Gold Reef City.Jo'burg is like any other big city in the world – a New York, a London or a Mumbai. Unlike what you hear of it being extremely dangerous, it's like any big city which has a great influx of immigrants from neighbouring countries. It is bound to have some crime but that is normally confined to certain downtown areas and only those who try to venture alone in the dark can expect some trouble. Otherwise, it is a very exciting city and one can easily spend 2 to 3 days in Johannesburg as there are lots of exciting activities for the tourists. As for the Sandton area, it is extremely safe and mostly it is the impressions created by media about the city being unsafe. Johannesburg is located on a high-lying plateau of over 1500 m above sea level known as the Highveld regions and is a must visit city for people who want to see South Africa.
In 1886, gold was discovered on the dusty, desolate plains of the Witwatersrand and the city mushroomed around the site as the word spread of its potential and settlers flocked in search of a lucky fortune. That gave rise to Joburg which today is a thriving metropolis comprising of elaborate office parks and towering buildings, elite residential suburbs and bustling shopping malls, restaurants and entertainment venues. Whether it's a Jew, a Czech, a Greek, an Indian, an Italian,a Zulu , a Nigerian or an American, you find all human species in the city of Gold.
Let me tell you about the place where it all started – the Cradle of Humankind which was declared a world heritage site in 1999.
Mrs Ples was discovered here by Dr. Robert Bloom on April 18th 1947.Mrs Ples is a hominid – a term used to refer to humans and our ancestors i.e. primates. It is the skull of a human,derived fromPlesianthorpus-meaning almost human-was described at the time as "the most perfect pre-human skull" ever found. It made us believe who we are and where we came from. To get a feeling of exploration and trace our ancestors, it is worth walking into the Sterkfontein Caves. To get in and out of the caves requires you to climb a lot of steep steps and narrow curves as well as give you the opportunity to bend your back – an ideal trip for those seeking adventure. The Cradle is about an hour's drive from Johannesburg and has lots of other attractions around it such as small game sanctuaries, lodges and wellness centres. In 1978 ,a foot embedded in breccia was discovered at the Sterkfontein Caves. The foot, believed to be that of a monkey, was kept in a box until 1994 ,when it was discovered that it was from a hominid. Little Foot, believed to be between 3.2 and 3,5 million years old, was then announced to the world.
Another place open to the public are the Wonder cavesUnlike the Sterkfontein Caves, you enter the Wonder Caves by lift and here you find some of the most amazing lime and dolomite formations. The caves are supposed to be as old as 2,200 million years and some of the formations 15 metres high, suspended in some simply amazing shapes. In these caves you find cave pearls,rimstone pools, stalactites, stalagmites, etc. The most striking of all formations was in the shape of Mother Mary which has been formed naturally over a couple of million years ago.
The same evening we visited Moyos – a restaurant which serves typical African cuisine in the downtown area, which looked altogether a different city and is connected to the other end of Jo'burg through the Nelson Mandela Bridge.Moyos is one restaurant which offers an all-African Dining experience where you can have cuisine from different parts of Africa. You could get your face painted while you await your meal.
After a sumptuous meal we returned to our Hotel and, looking forward to the next day, as there were lots of exciting things lined up for us including visiting Soweto, Gold Reef City as well as the longest running musical performance in South Africa, Richard Loring's African Footprint.
(to be continued)